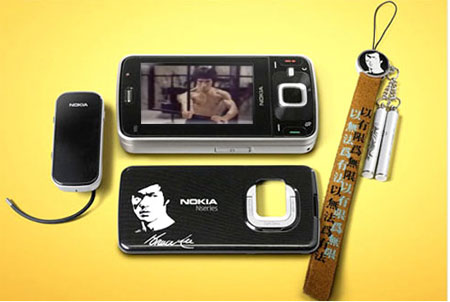 Technology giant Nokia has launched the special edition of 'Nokia N96', which has Bruce Lee's image on the phone, in Hong Kong.
The Nokia N96 Bruce Lee limited edition phone features Bruce Lee's face, signature on the back panel, and is also comes packed with rare pics of the ace martial artist and actor.
Moreover, the phone also comes packed with several accessories including a Bruce Lee doll and a nunchaku.
Nokia N96, which was recently launched, offers a memory size of 16GB, which can be increased to 24GB with an optional microSD card, permitting users to store hours of media and entertainment on the go.
The dual-side N96, which sports a 5-megapixel camera with Carl Zeiss optics and dual LED Flash, is a perfect of style and advanced technology and represents a complete new chapter in mobile technology. It is best optimized for superb web and entertainment.
The N96 can store up to 18,000 songs, around 20,000 effigies at 5 mega pixel, upto 60 hours of video or full length movies. With multifunctional media keys and a 2.8" screen, music, movies and games and will be available at the touch of a button.
The phone also packs in turn-by-turn voice navigation with geotagging and N-Gage gaming back up with Ovi to share up images online.
Other amazing features of the phone include built-in 3D stereo speakers, MPEG-4, Windows Media Video and Flash Video. Moreover, it is also compatible with USB 2.0 connection, WLAN and 3G HSDPA support. The phone comes along with a Bluetooth headset and a special wrist- band.
The original Nokia N96 is available at a price of about $840, but this 'Bruce Lee Edition Nokia N96' is priced little higher for about $1,300.